---
Do your missing teeth affect how you speak, eat, and interact with others daily? There are many functional and aesthetic issues when you have missing teeth. Dental implants are the modern solution for replacing missing teeth. Schaumburg area restorative dentist Dr. Dhara Patel offers affordable dental implants at Best Dental Spa in Hoffman Estates. Learn all you need to know about dental implants here so that you can make an informed decision about where you should get them, or visit our implant dentistry for more.
Dental implants are a secure and durable treatment option for many with missing teeth. Dental implants are permanent and versatile in the problems they can fix. For example, we can use them as anchors for dental bridges and dentures! Dr. Patel also offers the all-on-four implant procedure. All-on-four can easily secure a whole row of replacement teeth. Replacing missing teeth with dental implants can help prevent dental health issues that missing teeth create.
What can Dental Implants Do For Me?
For people missing one or more teeth, dental implants provide a secure and stable teeth replacement solution. They mimic the look, feel, and function of natural teeth. Implants consist of titanium, which is biocompatible with bone in the jaw. This creates a strong and permanent foundation for the final restoration.
But what else can dental implants do for you? Dental implants offer considerable benefits that can help you regain your confidence in your smile and enjoy better oral health overall. As well as being cosmetically appealing, you'll have an easier time when it comes to eating and speaking clearly. They can improve your bite and make it easier to chew your food.
Dental implants can also help support your jaw and facial muscles. And because they securely sit in your jawbone, they can also help to prevent bone loss. Here are more benefits of getting dental implants:
Improve speech
Provide no risk of slippage
Prevent premature facial sagging
Reduce the risk of gum disease
Provide durability for full mouth function
Prevent bone loss and gum recession
Improve chewing ability
Replacing missing teeth can also prevent dental problems down the road. Dental problems such as:
Tooth decay
Overcrowding
Shifting teeth
Misaligned bite
Receding gums
Jawbone deterioration
Further tooth loss
If you have one or more missing teeth and want to receive dental implants, our team will work with you to find a solution that suits your needs. In addition to replacing individual teeth, they can also provide stabilization for full or partial dentures, and dental bridges. If you are considering dental implants, talk to your dentist to see if they are right for you.
Treatment With Dental Implants at Best Dental Spa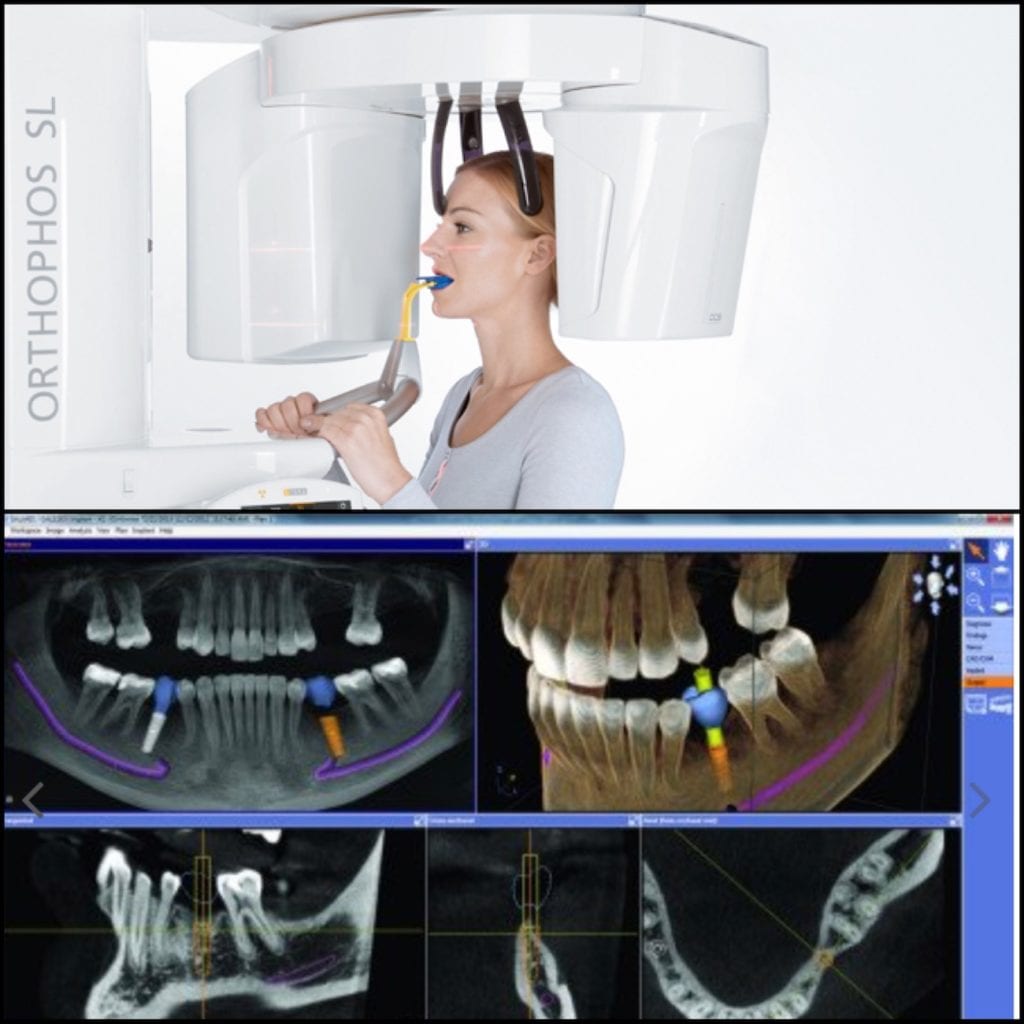 Dr. Patel will assess your oral health and review your budget and goals with you before recommending the appropriate treatment. She will use CBCT (Cone Beam Computed Tomography), a type of x-ray we use for the placement of dental implants. CBCT gives dentists a more clear picture of the mouth.
The dental implant procedure begins with a full exam. Dr. Patel will use the exam to create a detailed treatment plan. Next comes the oral surgery step. Our periodontist will surgically insert the titanium fixture into the jawbone to create an anchor. We will let your mouth heal over the fixture for 3 to 6 months. After your mouth heals and the fixture fuses to the bone tissue, we will place a permanent abutment and the dental crown. Following treatment, you can brush and floss your teeth normally and enjoy a new fuller smile. To learn more about our dental implant process, see The dental implant process.
The following photo is an example of a real patient that underwent a dental implant procedure at Best Dental Spa. This patient had two missing front teeth. We provided them with permanent replacement teeth and now it looks like they never lost teeth in the first place!
---
Contact Us About Dental Implants
---
Types of Dental Implants at Best Dental Spa
There are several types of dental implants available for our patients at our Hoffman Estates dental practice. Here, we will explore the different types of dental implants and their uses. From single-tooth implants to full-mouth reconstructions, you'll learn about the different types of dental implants available and which one is right for you.
Implant-supported Dental Crown
This is the most common implant restoration. It is a single dental implant that supports a single dental crown that replaces one lost tooth. The crown that we provide consists of porcelain, a material that resembles your natural tooth enamel. Implant-supported crowns most commonly replace lost molars and premolars, and fill in the space left by missing teeth in the front of your mouth.
Implant-supported Bridge
An implant-supported dental bridge is a type of dental prosthetic that we can use to replace two or more of your missing teeth. An implant-supported bridge is essentially a traditional bridge that attaches to two dental implants. It will replace up to 4 missing teeth in a row. This type of bridge is a great option for those who want to restore their smile and regain the ability to eat and speak normally.
The implants provide support for the bridge, making it stronger and more secure than traditional bridges that only neighboring teeth support. Additionally, Dr. Patel can use implant-supported bridges when there are not enough healthy teeth remaining to support a traditional bridge.
Implant-supported Denture
A dental implant-supported denture can replace a whole arch of missing teeth. Dentists also call these All-On-Four dentures or implant dentures. Implant-supported dentures provide a great solution for our patients who have lost all of their teeth due to injury, age, or medical conditions. This type of dental implant prosthetic and denture permanently replace missing teeth to fully restore the patient's smile.
A series of titanium posts that act as artificial tooth roots will hold the denture in place at the jawbone. This provides a secure foundation for the denture, allowing it to function much like natural teeth. Furthermore, patients who receive implant dentures can enjoy improved oral function such as chewing and speaking, as well as an enhanced aesthetic appearance. With proper care and maintenance, implant dentures can last for many years.
Dr. Patel provides safe, long-lasting solutions to the problems of missing teeth and can greatly improve the quality of life for those who choose to take advantage of our dental implant services. With the right care and attention, you can enjoy the reliability and improved appearance of your dental implants for years to come.
Dental Implant FAQs
Are you still not sure if dental implants are right for you? Would you like to know more about them? Read the following answers to frequently asked questions that we get about dental implants.
How long do dental implants last?
Dental implant restorations can last for up to 20 years or longer with the right dental care and at-home maintenance. The titanium implant body itself will last a lifetime. Scheduling regular dental cleanings in our office and brushing and flossing regularly can help you maintain a healthy smile.
Does the dental implant process hurt?
No, you will not feel pain during the dental implant procedure. Our periodontist will use a local anesthetic to numb the area that we are treating during the dental implant procedure. Dental implants also require a healing period of 3 to 6 months, during which they fuse with bone tissue in the jaw. You may feel pain after the treatment while you heal, and you should call our office if your pain exceeds several days.
How soon can you receive dental implants after a tooth extraction?
Sometimes periodontists can install dental implants during the same office visit as a tooth extraction. Dentists generally recommend to wait at least 4 to 6 weeks after a tooth extraction before getting a dental implant. This time period allows the socket area to fully heal and mature, thus promoting successful implant placement. However, patients should not wait too long to replace a tooth or teeth because multiple aesthetic and oral health problems can arise.
Replace Your Missing Teeth with Dental Implants Today
Contact Best Dental Spa to discuss your dental health concerns and explore dental implant treatment options. We welcome new patients from Hoffman Estates, Schaumburg, South Barrington, and surrounding neighborhoods near you. Call our office at 847.660.6603 or request an appointment online for personalized dental care today.
To learn more about our dental implant services, see: